After many years in the textile industry,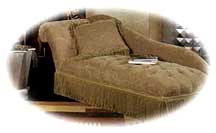 Trims Plus felt the need for a web site to be created that offered a selection of decorator trims unlike any other presence on the web. We take great pride in offering a large selection of very high quality goods in an array of colors. Our services are offered at a retail and wholesale level. We specialize in custom orders, so please let us know what your needs are. Learn more about our Trims.


At Trims Plus we do our best to provide you with the best service possible. Customer service is our top priority. We use high quality equipment to try and provide to you the most accurate, quality pictures of our products. Colors may appear slightly different depending on your computer equipment and your settings. Color samples are available upon request. All sales are considered final and non-refundable. In some circumstances a credit or coupon may be issued. Such exchanges or returns are made on a case-by-case basis. Customers must first contact us either by email or phone, and, if a return is accepted, provide us with proper documentation as requested. Merchandise may be returned due to defects or a shipping error. Returned merchandise will not be accepted without prior authorization from Trims Plus. A 25% restocking fee may apply and shipping costs are non-refundable.



When you place an order at Trimsplus.com we collect your name, address, telephone number, credit card information and your e-mail address. This information is used only to fulfill your order and to communicate with you about your order. Updates may be sent to you via e-mail alerting you of special offerings or new merchandise. You may unsubscribe from our mailing list at anytime. If you have any questions, please feel free to contact us.


At Trims Plus we understand the growing concern that consumers have regarding safe transactions over the internet. We use the latest technology available to ensure that your purchase will be secure and that all of your information is encrypted for 100% security. We accept Visa, Mastercard, Discover and American Express online, or you can send us your payment by check or money order. U.S currency accepted only.



Trims Plus ships U.S. Priority Mail and UPS. We also offer FedEx by request for expediting orders. We charge a flat rate for shipping and handling for all orders shipped in the United States. Our rates are the following:
$0 to $25.00 - $11.95
$25.01 to $50.00 - $13.95
$50.01 to $100.00 - $15.95
$100.01 to $200.00 - $19.95
$200.01 to $300.00 - $21.95
$300.01 to $400.00 - $24.95
$400.01 to $500.00 - $27.95
$500.01 + freight will be 5% of order total. If freight is more than amount charged at 5% on orders over $500.01, you will be notified for freight approval.
Outside the United States, different shipping will apply. Once your order is placed, we will e-mail you a freight quote. Once approved your order will be shipped. Please allow 5 to 10 business days to receive your order. If an item is not available, you will be notified of the due date. Back orders usually take anywhere from 2 to 10 weeks. For special delivery requirements, please e-mail us for a quote. For custom orders or wholesale orders, different shipping charges will apply.



Cotton, polyester and acrylic trims are washable. Beaded trims are not washable or dry cleanable because of their delicate nature. All other trims are recommended to be dry cleaned at a professional dry cleaners. Certain colors that are deep in color like wine and brown possibly run when washing. It is recommended to first rinse the trim in lukewarm water until the water is clear and air dry before attaching to the fabric. Only do this if your intentions are to wash the trim in the future. If washing ball or tassel fringe, strong action cycles in washing machines may damage the trim. If the ball fringe has been abused by harsh laundering and drying, hold a steam iron over it to revive its fullness. For best results, dry clean all trims.


All of the items at Trims Plus are sold by the yard or individually unless otherwise stated. To shop our store, choose one of the categories from the left and click on the product image for a larger view. Please enter the quantity and color selection you wish to order in the space provided below the item you wish to purchase, then click on the ADD TO CART button. To order from other categories, click on one of the category choices to the left. Once you are done shopping click on the CHECKOUT button at the top of the page and the SECURE SHOPPING CART will prompt you for all further information needed to complete your purchase. Trims Plus accepts payment with VISA, MASTERCARD, DISCOVER and AMERICAN EXPRESS safely online, and also accepts payment by PERSONAL or CASHIER'S CHECK. All information that you submit via this form is encrypted and can not be viewed by third-parties while in transit.

Trims Plus takes great pride in offering several different collections of trims to meet everyone's individual needs. Each collection available offers something very unique which makes it stand out from all of the other collections offered. You will find that each collection offers beautiful coordinating tassels, fringes, tiebacks, cording and more. You can either shop our store by style of trim or by collection. The following is a brief description about the different collections we offer so that you can get a better feel for what the collections look like. The collection button is on the upper left side of the site and there is a link for every collection that we offer.


| | | |
| --- | --- | --- |
| • | Shiny Trims | |
Princess 1 is our most popular collection. The styles are very traditional, the collection is very affordable, and the solid color line is fantastic! Several different cording sizes and tassels available. This is also where you'll find the chainette fringe. Crafters love this collection.
Princess 1 Mingled coordinates with Princess 1 and offers some of the hottest color combinations available for this year.
Ellora has some very unique styles available with lots of texture and very rich mingled color choices. The tiebacks are gorgeous in this collection.



| | | |
| --- | --- | --- |
| • | Cotton Trims | |
King Cotton offers a great selection of cotton trimmings and accessories including ball fringe which is one of our hottest sellers.



| | | |
| --- | --- | --- |
| • | Silky Looking Trims | |
Tudor is an elegant collection offering silky looking trims in a rich blend of yarns and mingled colors.
Empress is one of our most popular collections, offering elegance and style in solid, alternating and mingled color ways that coordinate beautifully together.



| | | |
| --- | --- | --- |
| • | Combination Shiny and Matte Trims | |
Princess 2 is very popular. The fibers are mixed to give it a shiny dull look, perfect in any setting and offered in solid colors only.
Marquise is another very popular collection. The mingled color ways and simple style make it one of our top sellers.
Duke offers a fantastic color selection in mingled, alternating and solid color ways with some great styles to choose from. This collection meets UFAC requirements.



| | | |
| --- | --- | --- |
| • | Beaded Trims | |
Beaded Opulence offers a huge selection of the hottest beaded trims available in rich, vibrant colors and unique styles.



| | | |
| --- | --- | --- |
| • | Chenille Trims | |
Carrington is a lush collection of mingled chenille trims, beautiful in any setting.