Our 8" Program Tassel is offered in 20 fantastic colors. Our program tassels are a great added touch for your programs, invitations and so much more! We guarantee your satisfaction, offering only the highest quality tassel sold much cheaper than our competitors online. You will love our floss program tassel!
We have NO MINIMUM required!
8" Program Tassel / 20 Colors!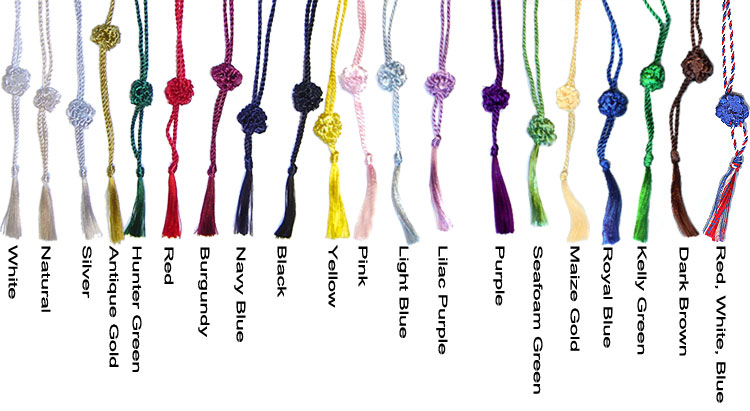 This beautiful floss program tassel has a 8" loop with a 2" floss tassel. This size will fit the binding of a program or invitation that is 6" to 7 3/4" long. There is an adjustable slide that will allow you to tighten the loop for a perfect fit. THE 8" PROGRAM TASSEL WILL NOT FIT A PROGRAM THAT IS 8 1/2". THIS PROGRAM TASSEL DOES NOT STRETCH. YOU WILL NEED THE 10" PROGRAM TASSEL IF YOU HAVE AN 8 1/2" PROGRAM. We offer 20 beautiful colors in the floss program tassel. The colors are shown below. The color chart shows the colors offered in the same order as the drop down menu where you make your color selection. If you are interested in ordering a much larger quantity, please call us!

Quantity in Basket: none
Code: 57998
Price:$0.24